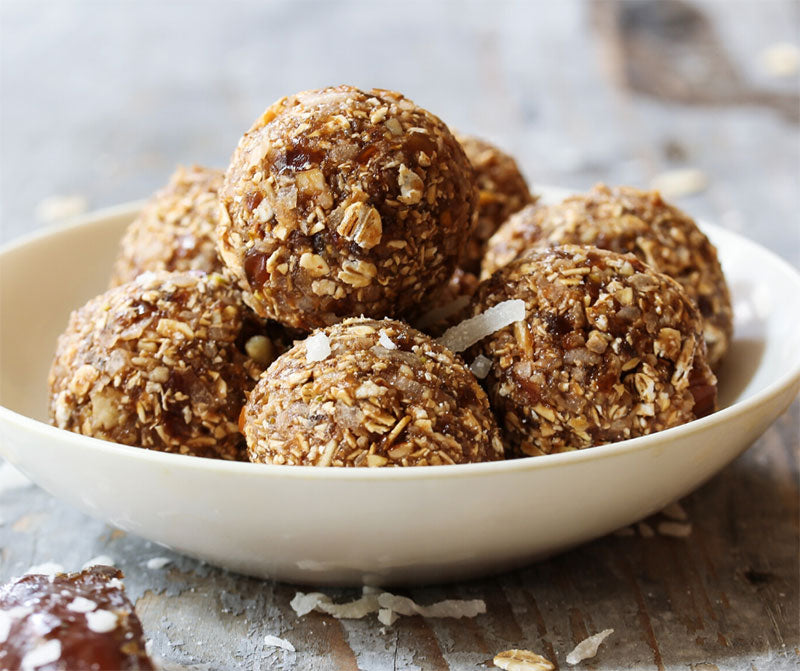 Posted on
---
Post-Workout Protein Balls Recipe
If you're truly dedicated to your workouts, you'll know that being fit, staying healthy, and getting lean are about more than just the exercise. In order to really succeed and see long-term fitness success, your diet has to reflect the work you're putting in – which means you need the protein, fibre, and other nutrients your body craves after a good sweat session.
With that said, it's hard to find inspiration right after a workout to get the dishes out and a big meal going. It's extra tempting to reach for easy candy or empty calories. The solution? Prep some of these bite-sized protein balls ahead of time, and store them in the fridge or freezer for a healthy snack that's ready the moment you need them!
The Importance Of Protein After Exercise
Studies show that eating protein after an intense workout, like a spin class or HIIT, can help your body rebound and repair better. Maximize your activity by giving your muscles what they need to succeed! You'll feel less sore, less fatigued, and for best results, you should aim to eat no later than 45 minutes after your workout.
A Recipe For Fitness
To make your own power-packed protein balls, you only need a few simple ingredients:
1 cup of old-fashioned rolled oats
¼ cup of mini chocolate chips
1/3 cup chocolate protein powder
½ cup peanut butter (or any nut butter of your choice)
3 teaspoons of water
3-4 pitted dates, chopped
3 tablespoons of honey
A little bit of shredded coconut
To start, put a sheet of wax paper on a plate. In a medium-sized bowl, add all the dry ingredients and mix them thoroughly. Then, put in the peanut butter, water, and honey, coating the other ingredients enough that they can stick together well on their own (if it is too dry, add an extra teaspoon of water).
Next, use a spoon to scoop out balls that are 1" to 1.5" in diameter, rolling them together with your hands. Set them on the wax paper until you've got all the "batter" used up. Put them in the fridge to chill for 20 minutes or so, and when you come back, they should be hard enough to transfer to an airtight container. Test one for quality control, toss the rest in an airtight container, and tuck it in the freezer for easy access. And it's that easy – less than half an hour and you've got plentiful snacks for after spin class (and they're another great thing to do in isolation, too).
Healthy Appetites, Healthy Outcomes
The great thing about these protein balls is that they're small enough to control portions, but they're filling enough to sate the hunger you'll build up during exercise. You won't be tempted to eat too many of them, since they're meant to be filling and nutritious, without containing too many phantom calories.
Let us know what you think about this recipe, and if you have any way to improve it!
Join Now!
Subscribe to get special offers, free giveaways, and once-in-a-lifetime deals. We promise to send emails you will love.