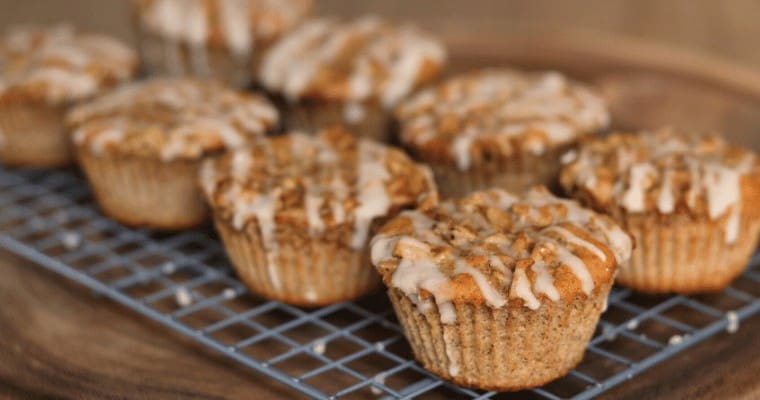 Posted on
---
High-Protein, No Gluten Coffee Cake Muffins Recipe
Getting the right macronutrients is an important part of maximizing your workout efficiency and recovery. After all, if you're working out to lose weight, as many of us are, the old saying stands true: "You gain health in the gym, but you lose weight in the kitchen." So eating well is key! But if you've got sensitivities to proteins like gluten, getting enough protein in your diet without overloading on sugars, calories, or carbs can be a bit of a balancing act.
Gluten-free Coffee Cake Muffin Recipe
Luckily, for all the celiac sufferers and gluten-free gourmets out there, we've got an excellent, easy, and healthy recipe for coffee cake muffins that will really hit the spot after you've got a good sweat going. You can prep them ahead of time and have them ready when you are – they clock in at 8 g of protein, 8 g of carbohydrates, 7 g of fat, and 120 calories each.
Many thanks to Mason Woodruff at Kinda Healthy Recipes for the inspiration!
How to Make Coffee Cake Muffins
Here's a list of what you'll need to make these muffins, the streusel topping, and the glaze. Set aside roughly 45 minutes from start to finish (15 to prep, 30 to bake). This amount yields 9 muffins, so keep that in mind for how many you'll want.
Muffin Ingredients
2 scoops (62g) PEScience Select Protein Powder, vanilla
1/2 C (60g) oat flour*
1/4 C (30g) almond flour
2 Tbsp (24g) Swerve Granular (or granulated sugar)
2 tsp baking powder
2 tsp ground cinnamon
1/4 tsp kosher salt (or 1/8 tsp table salt)
1 large egg
1/2 C (120mL) almond (or other) milk
1/4 C (60g) unsweetened applesauce
Walnut Topping
1/4 C (30g) chopped walnuts
2 Tbsp (10g) rolled oats
2 Tbsp (24g) Swerve Brown (or brown sugar)
2 Tbsp (28g) light butter
Glaze
1/4 C (36g) Swerve Confectioners (or powdered sugar)
3-4 tsp water
Once you've got all your ingredients ready, get a non-stick muffin tin ready and set the oven to 350° F so it can preheat while you prep the muffin batter. Mix all the dry ingredients together in a large bowl (this helps ensure even distribution in every bite), and in a separate bowl, whisk together the egg, milk, and applesauce until they are well blended. Pour this into the dry ingredients and stir them up until the mixture is smooth.
Substituting Different Protein Powders and Sugars
You might be wondering about substitutions – for the protein powder, for the sweetener, for the milk, etc. Swap out the powder at your own risk, as no two brands are the same and may have different ratios of whey, casein, etc. You may end up with muffins that are very chewy, or fall apart really easily, so use your judgment on that.
Feel free to use any type of milk you like, or replace the Swerve sweeteners with real sugar or other substitutes if you prefer (as long as they work at the same ratio as real sugar). If you're not a fan of applesauce, consider using canned pumpkin puree – it helps bind the muffin together with a fraction of the calories of butter or oil. In a pinch, though, you can use another egg, light butter, or whole milk to do the same thing.
So – back to the batter. Once it's mixed well, pour enough batter into each muffin cup to fill it ¾ full. Use another bowl to create the walnut streusel topping by putting the walnuts, oats, butter, and Swerve (or regular) brown sugar in and stirring them up. Top each muffin with some of this mixture.
When the muffins are nearly done baking (25-30 minutes; use a toothpick to check the insides) it's time to make the glaze. Mix the confectioner's sugar and water together to your desired consistency and drizzle over the muffins as they cool. Voila – you've got plenty of high-protein snacks (and they go along with our other post-workout protein ball recipe)!
The next step? Eat, enjoy, and don't forget to come back for more healthy snack recipes soon!
Join Now!
Subscribe to get special offers, free giveaways, and once-in-a-lifetime deals. We promise to send emails you will love.