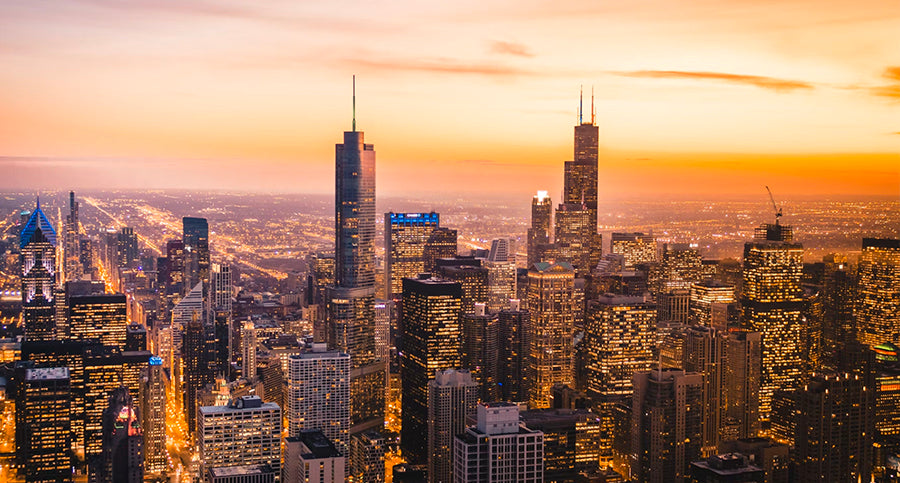 Posted on
---
The Best Spin Studios in Chicago
Does the rainy weather have you looking for a place to spin near Lake Michigan? Are you getting ready to register for the 2022 Intelligentsia Cup around Chicago? Or is your apartment a little too small to have your own indoor spin bike at the moment?
Whatever your reason for staying off the bike paths while you get your workout, there's plenty of options for indoor cyclists in northeastern Illinois. Here are some of the most intense, interesting, and impressive spin studios in Chicago and the surrounding communities – try just one or visit them all!
1. Push Indoor Cycling (6315 South Central Ave; $70/month unlimited)
Located just south of Midway Airport, between Clearing and Chrysler Village, Push is a great place for beginners and experts alike. All classes can be customized for any fitness level, and there are many variations that focus on different goals, like ab work or overall toning. They also offer Fitmetrix heart rate tracking so you can keep an eye on your stats. A month of unlimited classes is just $70, too – it's hard to argue with that price!
2. Studio Three (multiple locations; $205/month unlimited)
These sleek and stylish locations use Studio Three custom bikes, which provide detailed information about the rider experience as well as challenges, in-studio medals, and achievements. The studios themselves are arranged like an arena, facing the instructor in the middle, and are enhanced with professional lighting and sound. It's an experience unlike any other, and you can get it at any of their three locations (River North, Lincoln Park, or Fulton Market).
3. Turnstyle (108 W Hubbard St; $179/month unlimited)
A Midwestern twist on the basics of the spin studio, Turnstyle is all about melding mind and body on your journey to fitness and fun. Focusing on personal progress – physical and mental – the music and lighting are part of a refreshing workout that can transform your whole body. Simply take a look at the rave reviews on their site to see some real reactions to their work. That could be you!
4. SoulCycle (multiple locations and pricing tiers)
The name SoulCycle is well-chosen, as these studios (in Old Town, Southport, and The Loop, with another up in Skokie) offer a complete transformational experience that links up everyone in the room during a workout. Set to rhythmic music and focused on the community of riders achieving something new together, no two rides are ever the same – but they always deliver incredible results, in just 45 minutes.
5. Spynergy (1632b W Division St; $199/month unlimited)
This incredibly unique studio in Wicker Park was once an old barn, now converted into a cutting-edge indoor cycling space. Focusing on fitness, music, and community, it's nearly impossible to resist the energy of the building once you arrive – with colorful murals, friendly staff, and an atmosphere of endless encouragement.
Accessories for Indoor Spin Classes
When you hop on a bike that was used by someone else earlier that day, use a spintowel, a driptowel, or any other useful dripaccessory offering to keep your hands and face clean during your ride. These are specifically designed to fit on the most common indoor spin bikes, and the driptowel even retracts out of the way once you let it go. After you try them out, you'll wonder how you ever got by without them.
It would be impossible to list all the incredible indoor studios along the Chicago-Milwaukee corridor, and the many more that sit further inland. But even if your favorite spot isn't on here, the important thing is that you keep riding and improving – no matter where it's done!
Join Now!
Subscribe to get special offers, free giveaways, and once-in-a-lifetime deals. We promise to send emails you will love.