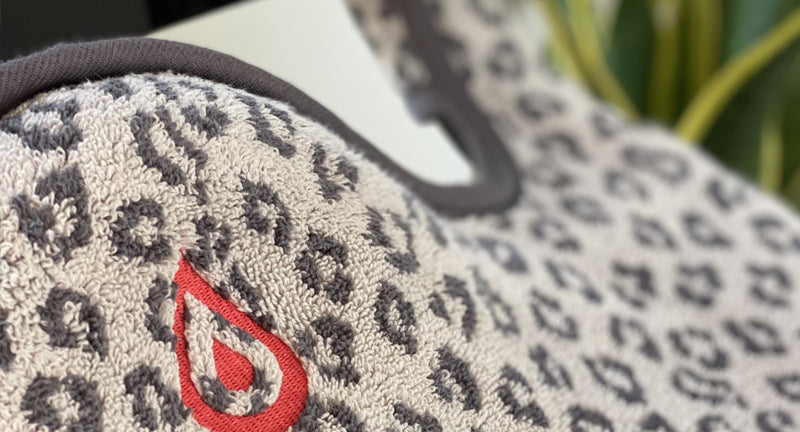 Posted on
---
The Best Spin Bike Accessories 
So you just picked up a slick new spin bike, and have finally got it installed at home. You're feeling good, and you're ready to jump on and go for a ride….but now you're wondering, am I missing something?
If you've just got the bike and nothing else, then unfortunately, the answer is yes!
To get the most out of your spin bike – whether it's a Peloton, Schwinn, Stages, Keiser, or a Pro Gear – there are some must-have accessories. These will not only help you stay focused and entertained, but they'll keep you clean, hydrated, and on track to hit your goals. Of course, apart from our very own spintowel... here are some of our personal favorites for the best spin bike accessories.
QUICK LINKS 
Music and Inspiration
Spin Bike Clothing Accessories
Spin Bike Fitness Technology
Organizing Your Spinning Accessories
Spin Bike Mounts
💧Exercise Bike Accessories for Music & Inspiration
Long gone are the days of tangled wires and pulled-out headphone jacks while you're cycling. Apple makes a pretty sweet pair of noise-cancelling Airpods that will help block out external noise, while staying snugly in your ears for an excellent wireless experience. If you need something with a bit more oomph, check out the Beats Solo3 on-ear headphones in your favorite color. Listen to music, podcasts, or a training video, and make the most of every minute on your bike.
If you need some additional inspiration to get you through the exertion, pick up a pennant from Rayo and Honey to hang in your space. Not only do they keep you motivated, but they're unique, too – each one is hand-crafted in Brooklyn by a local artist.
---
💧Spin Bike Clothing Accessories
• 

Spin Class Tops, Leggings, and Underwear.
Spin bikes have a bunch of moving parts, so you don't want clothing to get caught in anything that will pull. Typically men are more likely to attempt to get away with wearing baggy pants to a spin class which is why we believe it's important for you to check out the Lous Garneau Fit Sensor 2 Padded Men's Spinning Short. This incredible pair of shorts will ensure you have the best (and safest) ride possible!
For the ladies, a pair of LuluLemon's WunderUnder tights is a great way to minimize resistance and ensure there are no hanging strings or fabric. Another good choice are these high-waisted leggings from Carbon38, which not only perform well, but look good, too. They go perfectly with the Under Armour Sports Bra, which delivers support and compression while wicking away moisture and still allowing a wide range of motion.
• 

Our Favorite Spinning Shoes

And of course, we can't forget about the shoes! Having a good pair of spin bike shoes is important in preventing knee and hip injuries, and getting an effective grip and transfer of power to the pedal. A favorite among the dripaccessory team for many spin bike models is the Fizik X5 Terra Mountain Bike shoe, made of carbon fiber and microtex for comfort and breathability. A study in December 2019 found that a flex shoe by Louis Garneau was the most comfortable, breathable, and efficient, so that's a good option as well. If you're in doubt, go to an athletics shop and ask for some assistance in finding a shoe that works for you.

 
Shoes for Use with Peloton
TIEM Athletic Shoes
These stylish sneakers have rave reviews, filling a void for functional and stylish cycling footwear in the athletics market. With their signature "Slipstream" shoe, they have a variety of colors to choose from, all of which can help you get great performance – and they are a great shoe for use with Peloton!  If you haven't had the privilege of riding with a proper spin shoe... you are going to fall in love with the experience and that will be no turning back.
Nike SuperRep Cycle 'Beyond Pink'
You will be sure to make an impactful statement with this indoor cycling shoe and its big personality, showing off in a bright neon pink. In addition to its very functional features like cooling vents and breathability, it also has additional traction, delta cleats, and hook-and-loop straps for a secure fit on the pedals. This is one desirable fitness item that's sure to make your ride that much more of an experience! If you are looking for a pair of shoes for use with Peloton, this is the pair that will carry you for many wonderful miles.  This is a very popular spin shoe so we would suggest you go order a pair today before they are all gone!  Be sure to tag us on instagram @dripaccessory when you're rockin' your new pair alongside your favorite color of spintowel!
• 

Spin Class Socks
You may think socks aren't all that important as spinning accessories – but when they're not performing, you notice very quickly. That's why you should pick up some Bombas Performance Socks. Lightweight, durable, and breathable, they're designed to stay in place (and stay comfortable) while providing cushioning and moisture-wicking capabilities. Try a pack for yourself and see the difference that Bombas makes to your overall ride comfort – and did we mention that for each pair you buy, another is donated to a person in need?
---
💧Spin Bike Fitness Technology
• On Your Bike
If you're ready to take your workouts to maximum efficiency, you'll need a capable computer exercise bike accessory that can track every metric during your ride. Many built-in computers, especially on cheaper bikes, can only do the basics, so people choose to add their own. One of our favorites is the SPINPower Studio Computer, a small but powerful piece of technology that adds a whole new dimension to your record-keeping. If you're doing group sessions, this kind of spin class accessory will help you stay on track with your goals and 
Designed to be simple, this device lets you train smarter with a wireless connection that tracks cadence, heart rate, time, distance, and calories burned. It has a bright backlit display as well as an ANT+ connection, with easy installation and a one-year warranty if it fails to deliver. This spin bike tech even has a Bluetooth connection which makes it a great addition to help you improve with every ride!
• On Your Body
To monitor your heart rate, there are all kinds of devices you can use, from an Apple Watch to a Fitbit to any number of third-party apps. We prefer personal devices, as they get a better idea of your heart rate through the entire day and can store and analyze the data better. Knowing these numbers helps keep you at your target heart rate for maximum workout efficiency, so choose one that works best for you!
---
💧Organizing Your Spinning Accessories
If you start getting enough accessories for your bike sessions, soon you might find that you're leaving them around your home, or losing them entirely. And nobody wants to spend half an hour looking for headphones, towels, and hair ties when you could be putting some miles in on your bike.
Avoid that lost time (and those lost accessories) by investing in a workout organization shelf from MyPurseStrings. These specially-designed storage racks are built and painted by hand, and each one comes with shelves, hooks, message boards, and other modifications that are perfect for hanging up anything you need for a workout, like water bottles, weights, yoga mats, spintowels, and even your shoes. Plus, it fits easily on any wall with a simple installation, saving you floor space in smaller rooms. 
---
💧Spin Bike Mounts
• 

Spin Bike Tray
Do you need a place to put your notebook, crossword puzzle, phone, or other items during your ride? How about being able to continue your family video chat on your laptop, while you're putting in the miles? The TFD Tray V2, perfect for use with Peloton, is the answer! This lightweight, low-profile tray barely makes contact with your handlebars, but can accommodate most laptops, books, tablets, and other items you need close at hand. It's made out of strong acrylic, too, so it'll last through even the toughest exercise sessions.
• 

Bike Phone Mount
Depending on the model or style of bike you have, and what exercise bike accessories are included, your screen may not be able to display full video – or you might not even have a screen at all. Adding a Bovon bike phone mount can help with this, allowing you to stream classes, TV shows, or anything else you may need, without getting in your way. The silicone shape is flexible but strong, works with nearly all Apple and Android devices and it can rotate 360° for easy placement at any angle once the belt attachment is secured.
• 

Personal Fan
When an open window just doesn't cut it for airflow, nothing beats a fan going full speed to cool you down. The Amacool personal fan is a clip-on indoor cycling accessory that rests on your handlebars, with a bendable tripod design that allows you to get the full effect of cool air at just the right angle. With 360° range, three speeds, a variety of colors, and LED lights, this stationary bike attachment is the perfect companion to keep yourself cool during your ride.  Oh, and while we're on the topic of helping to cool yourself down... to keep yourself both cool AND hydrated, you'll need a decent water bottle that won't leach chemicals, is easy to transport and fill, and stands out from the crowd. Our pick is one of the funky colors from Pursuit, which are BPA-free and leak proof.
Of course, for any workout you'll need something to wipe the sweat away, and we know from experience that you can't go wrong with a spintowel that suits your bike. Once you've got your exercise area set up, you're ready to get moving – and we know these accessories for spin bikes will have you coming back again and again!  Check back frequently as our list of amazing accessories for spin bikes is always growing and changing!
Join Now!
Subscribe to get special offers, free giveaways, and once-in-a-lifetime deals. We promise to send emails you will love.