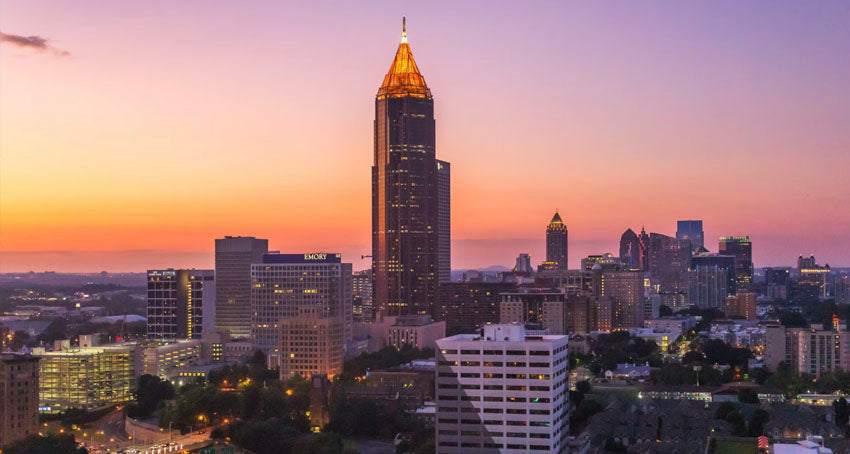 Posted on
---
The 5 Best Spin Studios in Atlanta, Georgia
Whether you live on the banks of the Chattahoochee or you're just around the corner from the Georgia State Capitol, Atlanta is a vibrant and exciting place to call home. If you're a big fan of spin classes, you're in luck if you live here, too. Scattered throughout the hundreds of blocks of streets and shops are plenty of great spin spots to match every skill level.
Get ready for a southern summer out in the hills by toning up at one of the 5 best Atlanta spin studios!
With a mandate to enable and empower its members and help them reach their fitness goals, this close-knit indoor cycling community is all about support and celebrating mutual achievements. If you're serious about your PBs, download the Vibe Ride Fitness app and drop into the next class, at Grant Park or their Midtown location. The coaches throw on a playlist of upbeat tunes and keep the energy and motivation high for the entire session.
They also offer an indoor cycling certification program, where riders in training can gain the credentials necessary to teach their own classes. Whether you're setting out in your own career or you simply want to know you're doing your best when riding solo, it's just another perk of this cool cycle space. 
$79/5 classes, $149/month unlimited (or $199/month to access both Atlanta locations)
2) 

Rukus Cycling Studio

(#3, 880 W Peachtree St NW; #104, 670 Dekalb Ave NE)
Did someone say, "First ride is free?" Rukus did! This shop wants you to enjoy your first spin session on the house, and the first thing you see on their website is this unbeatable offer. If you've been waiting to jump into the indoor cycling scene, it doesn't get much better than this.
There are countless class types and studio layouts to choose from – from relaxed 30-minute rides after work to the immersive and uniquely challenging CycleArena. The whole visit is meant to be integrated into one seamless experience, from booking classes on the Rukus app to the stats tracking while you're here. Plus, two locations – one in Midtown, and one more centrally between downtown and Inman Park – means you won't have to head out to the suburbs to have it all. 
$118/8 rides, $108-$158 monthly unlimited
3) 

BURN Studios

(696 Cleburne Terrace NE, Buckhead)
Located just off Ponce de Leon Ave near Druid Hills, BURN has a boutique and specialized approach to fitness. It's a place to feel inspired and challenged, while seeking the benefits of a great workout across your whole body. They offer indoor cycling, but there are also other options like kickboxing and HIIT if you ever want to switch it up.
One of the best things about this studio is that they have plenty of instructors, which means there are plenty of classes to choose from, too. Whether you're an early riser that needs a morning pick-me-up or you like to feel the burn in the evenings, BURN is a place where you'll feel right at home. 
$240/10 classes; $149-$199 unlimited
4) 

Cycle Gang

(3769 College St, College Park)
Cycle Gang is all about positive energy, bringing the best of an entire team together and using that support to help you achieve individual goals. Having just recently moved into their new location in College Park, the space – with lights, loud music, and an amazing atmosphere – is now ready for new riders. Just one visit is all it takes to have an experience you won't soon forget.
Each class is 45 minutes, with rhythm-based choreography that gets the entire class in sync. The community aspect is big both inside the studio and outside of it, with people like firefighters and teachers getting a 25% discount as a recognized community partner. But even without that, this is one of the most cost-effective studios in the city. What are you waiting for?
$119/10 rides, $75 unlimited
5) 

TURN Studio

(#220, 6405 Blue Stone Rd, Sandy Springs)
"Carved out of imagination", TURN is a place where Atlantans in the north part of the city can come to share a passion for healthy living, better physical fitness, and a bit of friendly competition to reach new personal bests. Through great music and an atmosphere of encouragement, riders are empowered to set and achieve their goals – no matter their skill level or ability.
Alongside the bigger studio classes with large groups, TURN also focuses on small-scale training for people who are more comfortable that way.  The owners and instructors also believe in giving back to the community through special fundraising events, like silent auctions and rides for charity. When you ride here, you're not just doing good for yourself, but for others.
$220/10 classes, $149-$169 unlimited
Getting Ready for Your Spin Class
Getting back into public spin classes with other people around can be a little bit of a shift after the last few years – or if you've never attended one at all. Spin classes are known for making you sweat, so make sure you bring a towel that will keep you dry and ready to ride. If you're in a hurry afterward, our quick Drip Wipes will get rid of any stubborn sweat that hangs around, giving you a grace period before you have to hit the shower. We have plenty of other accessories to help you make any ride your own – in a studio, at home, or anywhere else.
No matter where you ride, you can get the most out of your materials with the quality products from Drip Accessory. They're designed so you can focus on your workout, not on your wet underarms or back. Just once is all it takes – you'll never go to spin without them again!
Join Now!
Subscribe to get special offers, free giveaways, and once-in-a-lifetime deals. We promise to send emails you will love.