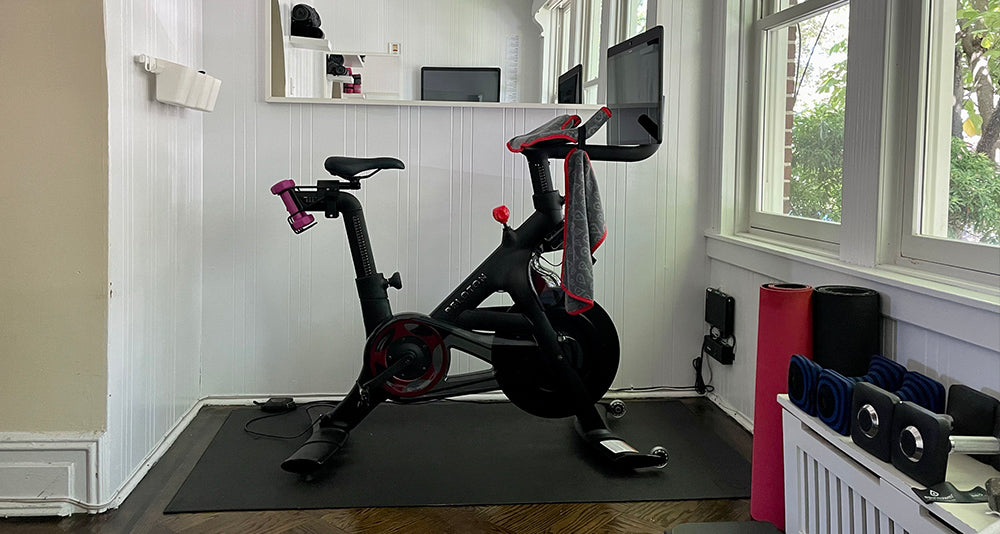 Posted on
---
When you're investing in a home spin bike, you want to make sure you're getting something that you'll actually want to use for years to come. Everyone is looking for something different, so whatever your circumstances, this guide should help you decide which brand of exercise bike is best. Here are some things that we consider (and you should, too):
Price: it would be nice if we could all afford the most expensive model, but that's not an option for everyone. We believe that shouldn't stop you from enjoying this amazing hobby, though.
Features: whether you like to keep things classic or you want the fully integrated experience with screens and streaming, there's a bike out there for you.
Size and Specs: do you have a lot of space at home, or will the bike be folded up and put away after every session? Sometimes, every square inch counts.
Overall Style: Recumbent and upright bikes both have many variations that can suit different lifestyles and layouts. Your new bike should be inspiring and a joy to use.
Best Spin Bike Brands for Home Workouts
Ready to dive in? Here's everything we cover in this guide:
The Best Exercise Bikes for Your Health Condition

One of the biggest factors preventing people from riding spin bikes at home is joint pain. This is especially true for knees and hips, as well as softer tissues like the lower back and core.
Knowing this, the designers of the Sunny Health & Fitness Magnetic Recumbent Exercise Bike made it as comfortable as possible. There's a supportive backrest, non-slip handlebars, an adjustable seat, and a lot more for keeping your body happy. On the features side, there are 8 levels of magnetic resistance and a monitor that digitally displays workout data.
Plus, the frame has a 3-year warranty and it's known for being easy to assemble. This model sells for about $300, but there are multiple variations if you want something more as well.
Ready to feel the burn? This comfortable and compact Schwinn bike helps set a great industry standard for quality and features. It's got a nicely padded seat, but it's the kind of bike where you'll hardly be sitting anyway.
There are interval and target programs, all based on the quiet, wind-resistance drive between your feet. The hand grips swivel for a good upper-body workout as you ride, and you can keep track of all your metrics with the digital display that monitors everything you'll need. All in all, this bike is an exceptional choice for cardiovascular exercise, helping to beat the plateau and continuously burn belly fat if you stick with it.
3) Best Exercise Bike for Weight Loss: Keiser M3i
If you've never heard of Keiser bikes, you're in for a treat. These stylishly designed spin bikes have a totally unique look, but still deliver on all the features you'll need to lose weight.
Load up any cycling app you want to use – Peloton, Zwift, Bkool, or anything else – or simply sync up the bike via Bluetooth to your fitness app of choice. Combine this with an amazing (and nearly silent) belt drive, double-sided pedals, and a sturdy construction, and you've got a recipe for consistent calorie burn and weight loss.
Bonus: The design makes this one of the best bikes for adjustability, too, especially if you are very tall or short. 
Which Exercise Bike is Best for Your Lifestyle?
Got a lot of motivation to ride an exercise bike, but not a lot of room to do it? You're far from the only one. The Exerpeutic Folding Magnetic Upright Exercise Bike is the perfect solution for people in this situation.

It's not the flashiest bike, and it does lack some functionality that others have (looking at you, non-adjustable handlebars), but at the core it's solidly built, and it will get your blood pumping all the same. It has a similar weight limit to other, more recognizable bikes (about 300 lbs), but it can easily fold away into a footprint of just 20" x 22". 
The basic model is less than $200, but you can also upgrade to the next one up for less than $500.
Like the Sunny Fitness model above, the Schwinn 270 Recumbent Bike is a low-impact, low-stress option for people with lowered mobility or stiffer tissues. The lumbar-supporting backrest and highly adjustable seat and resistance levels make it easy to customize a workout, while the digital monitor can keep an eye on heart rate and power levels to avoid overexertion.
Another plus is that it can be used with Bowflex's "Explore the World" fitness app, showing some amazing scenery along different routes around the world on the LCD screen. But it can also be made more low-tech, allowing riders to simply have a peaceful experience or catch up on other media.
3) Best Exercise Bike for Serious Riders: The Peloton Bike
What could we say about the Peloton that hasn't been said already? This is among the most well-known and highest-rated exercise bikes in the industry, and for good reason. 
Riders get access to massive catalogue of classes, full integration with apps and fitness devices, the support of an enthusiastic community, and of course, a sturdy and long-lasting home exercise bike that fits in a relatively small footprint. For people who are fully committed to the spin bike lifestyle, it's hard to top the Peloton. It is on the pricier side, especially with the app subscription – but if you're dedicated to using it in full for the years ahead, you can't go wrong with the original Bike or the newer Bike+.
Mixing the best elements of foldability, budget, style, and capability, the Lanos folding bike is an all-around winner across the board. It's not the sturdiest or the most customizable, but it can be folded up for storage, made recumbent or upright, and is easily movable in small spaces – all for a friendly $279 price tag. All of this makes it perfect for students, apartment dwellers, or anyone who is watching their bank account closely.
Buying the Best Home Exercise Bike
The biggest thing to think about when purchasing an exercise bike for home use is how you will use it. Do you need something simple, that can be easily stored away? Or do you want a permanent exercise space with all the latest features? Once you know what will work for you, deciding what to buy will be much easier.
Whatever you get, make sure you protect your investment with the right accessories and gear. After all, you don't want sweat dripping into electronics, or building up in crevices around the machine. But that's why our towels and other products exist – to make the ride all about the action, and less about the cleaning. 
Now that you know all this, you're one step closer to your fitness goals…so have fun and happy riding!
Join Now!
Subscribe to get special offers, free giveaways, and once-in-a-lifetime deals. We promise to send emails you will love.